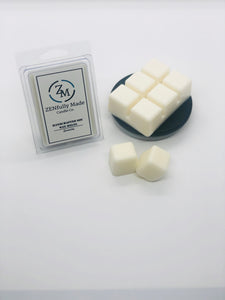 Relax your mind and cleanse your space with this uplifting fragrance. Luscious herbs such as sage, rosemary and chamomile blend with lavender to create an earthy, yet sumptuous scent. Hints of sandalwood and cedar intermingle with clove, lavandin and other essential oils to transition your space into one that is calm and serene. Soak in a warm bath, or cuddle up in a cozy space and let your cares melt away.
Top: Lavender
Middle: Camphor, Chamomile, Sage, Rosemary
Base: Sandalwood, Cedarwood
This product is infused with the following essential oils: cedarwood, clove and lavadin 
*All melts are plant-based and made with 100% soy wax, and include phthalate-free fragrances. Hand-poured weight average at 2.96 oz. One wax melt goes a long way.  Change out used wax when scent dissipates.