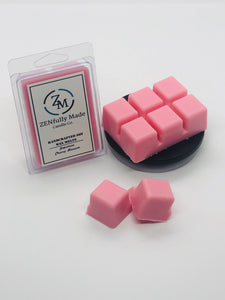 Take  a stroll on a warm spring day and enjoy the captivating scent of these lovely blossoms in full bloom. Infused with magnolia and rose, your senses will detect subtle hints of cherry, tonka bean, and sandalwood.  You will delight in this airy floral fragrance for hours on end. 
Top: Blossom, Magnolia, Ozone
Middle: Rose, Cherry
Base:Tonka Bean, Sandalwood

This product is infused with the following essential oil(s): cedarwood 

*All melts are plant-based and made with 100% soy wax, and include phthalate-free fragrances. Hand-poured weight average at 2.96 oz.One wax melt goes a long way.  Change out used wax when scent dissipates.