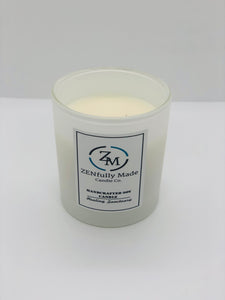 Known for its calming and healing powers, frankincense and myrrh have been relied upon since ancient times and used in perfumes and incense. Hints of fresh, citrusy bergamot and amber harness the enduring essence of this scent.  Woody notes blend with soft powder and oud while olibanum, patchouli and coriander seed reinforce the earthiness of this bold yet soothing fragrance. 

Top:
Bergamot
Middle:
Amber
Base:
Frankincense, Myrrh, Oud, Powder
This product is infused with the following essential oils: coriander seed, cumin, lemon, orange, patchouli, and olibanum.
*All candles are plant-based and made with 100% soy wax, cotton wick and include phthalate-free fragrances. Average burn time for small candle 30-40 hours and 45-55 hours for medium size. Hand-poured weight average at 7.58 oz for small candle and 10.47 oz for medium size.