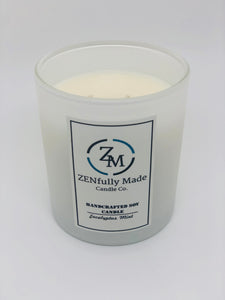 The invigorating scent of crisp peppermint and earthy eucalyptus combine to set a warm and inviting scene. Clove, vanilla, cedar, patchouli and a light touch of powder blend to infuse the air with vibrancy that will linger for hours. Fill your space with this fresh, clean fragrance and clear your mind.

Top: Eucalyptus, Peppermint
Middle: Cedar, Clove
Base: Patchouli, Vanilla, Powder

This product is infused with the following essential oil(s): Eucalyptus, Cornmint, Patchouli and Cedarwood

*All candles are plant-based and made with 100% soy wax, cotton wick and include phthalate-free fragrances. Average burn time for small candle 30-40 hours and 45-55 hours for medium size. Hand-poured weight average at 7.58 oz for small candle and 10.47 oz for medium size.